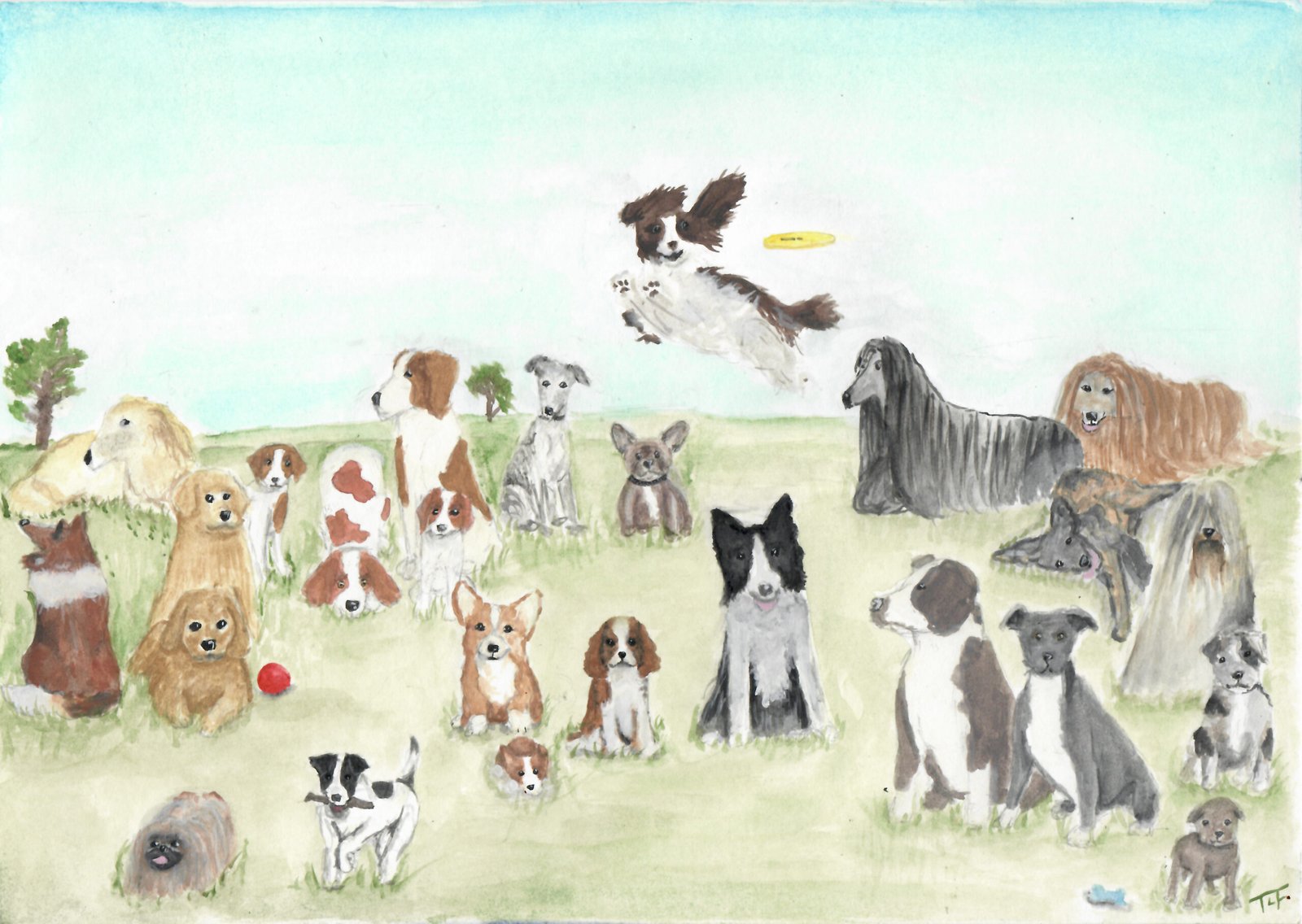 This was painted by Tabitha Furmato. It represents the family through the lens of dog personalities, as suggested by Dr. Peter R. Kirsten, licensed veternarian.
Dad is an Italian Greyhound – sweet, gentle, affable dogs that can be needy in their desire for affection
Mom is a French Bulldog – playful, alert, adaptable, and completely irresistible
Vince, Hesedel and Meiko are Afgan Hounds – strong-willed and independent, aloof and self-confident. 
Sara and Cody are Golden Retrievers – even-tempered, intelligent and affectionate
Rachel ,John, Jonny and baby to come are pitbulls – stubborn, friendly, intelligent, affectionate, loyal, strong willed, obedient, gentle, courageous
Haley, Cody, Elliana and Kai are Britney Spanels – friendly, bright dog who is full of energy
Luke is a Corgi –  happy, smart, fun-loving, loyal, stubborn, and playful.
Olivia is a King Charles Cavalier – very sociable dogs
Micayla is a Border Collie – highly intelligent and highly trainable
Tabitha is a Borzoi – good-natured, gentle and calm, seemingly amused at whatever entertainment comes their way.
Daniel is an Old English Sheperd – smart but independent dogs.
Elizabeth is a Springer Spaniel – outgoing and friendly
Victoria is a Collie – strong, loyal, affectionate, responsive, and fast
Isabella is a Pekingese – aloof with strangers, although they are devoted to their families.
David is a Jack Russle Terrier – happy, energetic dog with a strong desire to work.
Faye is a mix between Corgi and King Charles Cavalier, trait results may vary.